This month we're proud to showcase another great transformation from our interior renovations team. This one was over at a property in Walnut Tree, Milton Keynes.
The property had not been renovated for some time, and had a separate kitchen and dining area. We were asked to maximise the use of the space available whilst also updating and refreshing the whole kitchen and dining area too – so we created a plan to remodel the separate kitchen and diner into one combined functional space, and give the whole layout a clean, fresh and modern feel.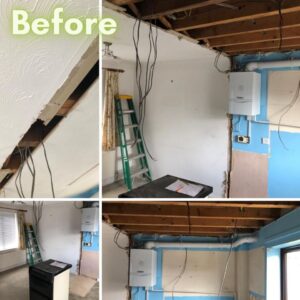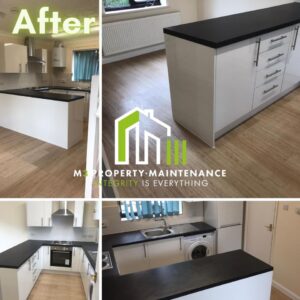 We began by completely stripping out the old kitchen, and then removing the wall which was previously separating the kitchen and diner. Our electrician specialists carried out a full electrics rewire, to meet the demands of the new layout as well as ensuring they were all up to safe, modern standards. Our GasSafe-registered engineers repositioned the boiler to a more practical location for the new layout too, which makes better use of the storage space available as well as improving the overall aesthetic.
The brand new kitchen was then installed by our interior team, which included new units, doors and worktops, as well as the installation of brand new appliances to match. Our expert tilers installed the soft grey tiles to the splashback area, and finally the beautiful wood-effect flooring added the finishing touch in creating a flowing, open-plan kitchen diner that offers the best use of the space available.
Full decorating works were last on the list to bring this kitchen diner up to M3 standards. We painted over the previous pale blue and removed the old wallpaper to repaint it all in clean, neutral colours to best complement the new units and floor.
The result is a modern, open plan space that offers practical worktop and storage space in the kitchen, combined with an attractive dining area – the perfect heart of a home for any busy family.