Cladding has many benefits for your property, from weatherproofing to heat and noise insulation, as well as giving a serious boost to your property's kerb appeal. In this post, we take a look at what the benefits of cladding your property are, and why we use the supplier we've chosen for M3 Property Maintenance cladding jobs…
What is Cladding?
Cladding is used on the outside of a building, primarily to protect it from wind and rain. It's a technique that dates back centuries, and these days cladding comes in a variety of colours and materials, from timber to PVC. It can be applied in a number of different ways – it can wrap around a whole building, or can just be applied to part of it.
What are the benefits?
Cladding gives an additional layer of protection from the everyday elements and those extreme of weather too – very hot and very cold temperatures – which can all take their toll on the structure of a building over time. You get another protective barrier to guard against high winds, heat and moisture, and the damage they can do over prolonged periods to your wall covering and what lies beneath.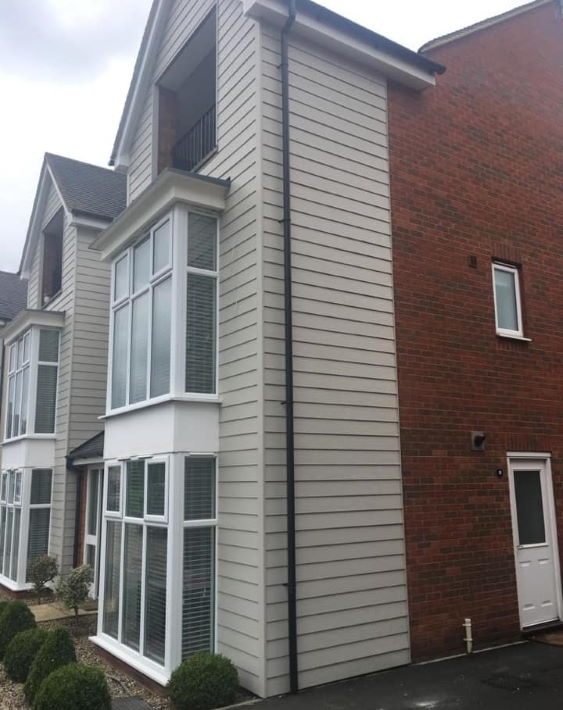 This extra layer that cladding provides can also give you better heat insulation; it can reduce the amount of noise pollution; and it can also put off a variety of household pests who might be seeking shelter in your walls and roofline. The right choice of non-combustible cladding also provides an extra line of defence for your property against the spread of fire, so it's important to select a product that scores very highly in fire testing for CE compliance.
Many clients also use the aesthetics of cladding to boost their property's kerb appeal. Chosen well and regularly maintained with an occasional wash down, cladding gives your property a fresh, clean front, and the variety of colour options gives you lots of scope to customise the look. You can choose shades that co-ordinate with your roofline features, windows and doors, or go for something that contrasts.
What do we use?
We're proud to offer our clients a full cladding service, from replacing worn and weathered cladding that's already in place, to fitting it in brand new builds. We use HardiePlank® fibre cement cladding, which is a versatile and low maintenance product that's high-performing and really looks the business, in a wide variety of colours and styles. Fibre cement is an engineered cellulose-fibre and cement composite that's resistant to moisture, rot, pests and fire – it achieves the highest possible score for non-combustible coloured weatherboards – and we love it because it's easy to install and lasts a seriously long time.
If you'd like to find out more about refreshing your cladding or including it in a new build, get in touch with us today. Our exteriors team will be very happy to talk you through the options for your property, and give you a free, no obligation quotation.